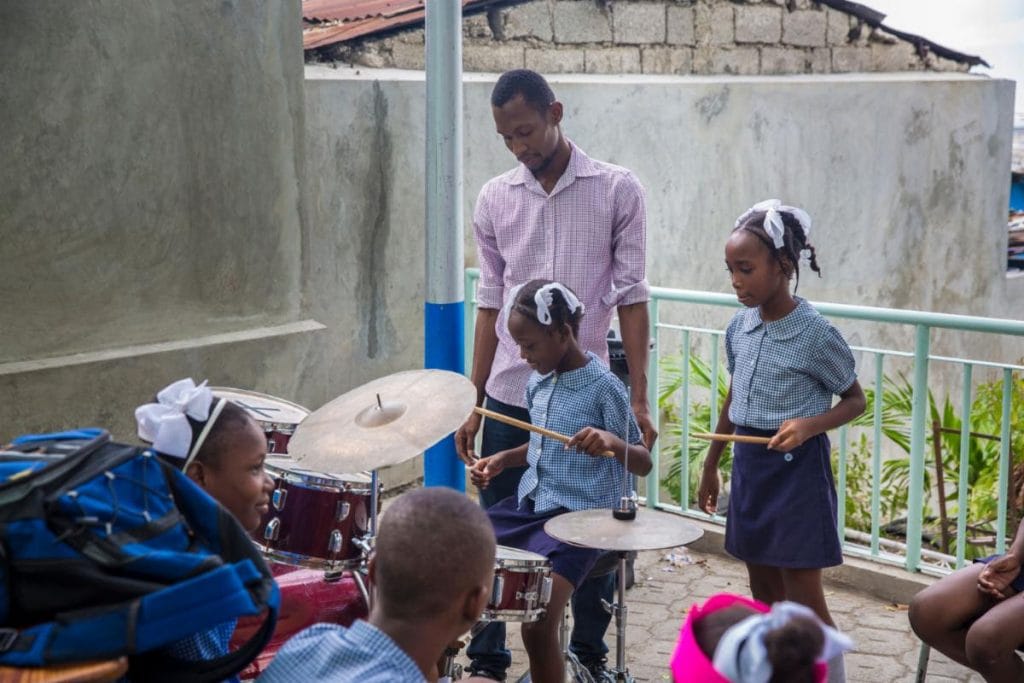 We wanted to fill you in on everything we are doing to support the children of Haiti, as well as our plans to adapt our music education program, an adjustment that your support will help us implement to make MHI stronger than ever.
We are doing everything we can to support our partner of 6 years, CORE (formerly J/P HRO) in their frontline response to the global pandemic. CORE is currently running multiple testing sites in the US, and in Haiti our Program Manager, Jean Marc Didis, has helped to set up a CORE clinic at one of our main music education sites.
During this period of school closure and summer break, MHI continues to build upon our partnership with CORE and Little Kids Rock as we pursue an innovative social distance music education pilot project. "Teach to Reach" will train 16 of our Peer Mentors as apprentice music teachers who will be able to provide one-on-one instruction to students in their neighborhoods while following social distancing and personal protection protocols. The program will strengthen our infrastructure with a new mobile workforce.
Given the circumstances imposed by lockdown and social distancing measures, we see Teach to Reach as an opportunity to move forward with an adapted version of our program that fosters a new skill set for Peer Mentors. Most importantly, it will enable our music students to continue to learn during this pandemic and will provide them space to heal.
From the beginning, your support has enabled Music Heals International to offer Haitian students a lifeline of hope through music. Now more important than ever, you make it possible for MHI to innovate and reach students with our groundbreaking program. 
With your help, we can reach our goal of $100,000 by the end of 2020. Click here to support Teach to Reach.
MHI has applied for a WAAM grant to help implement Teach to Reach. Your support will ensure this music education innovation becomes a reality for kids in Haiti.