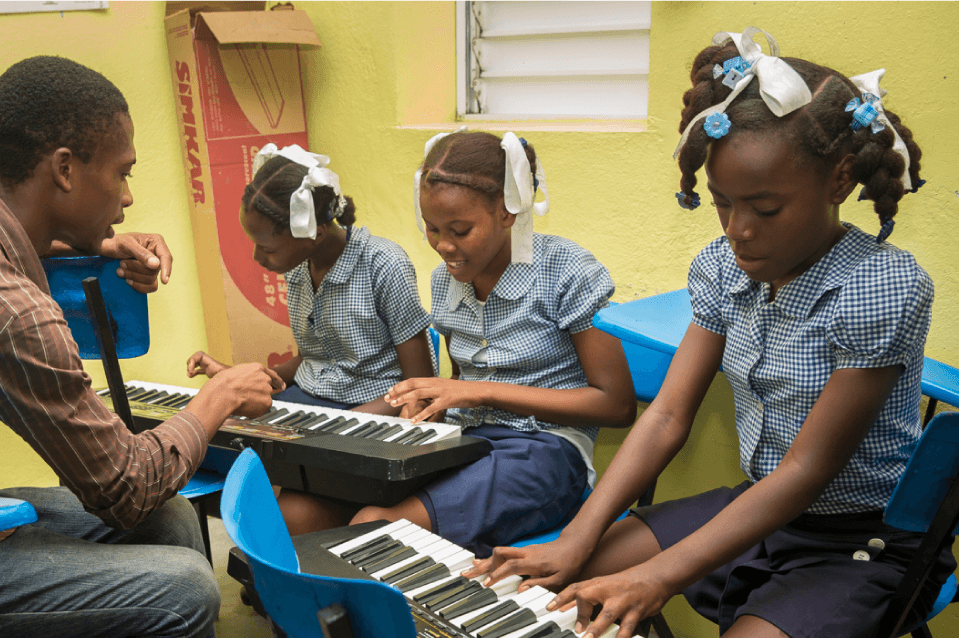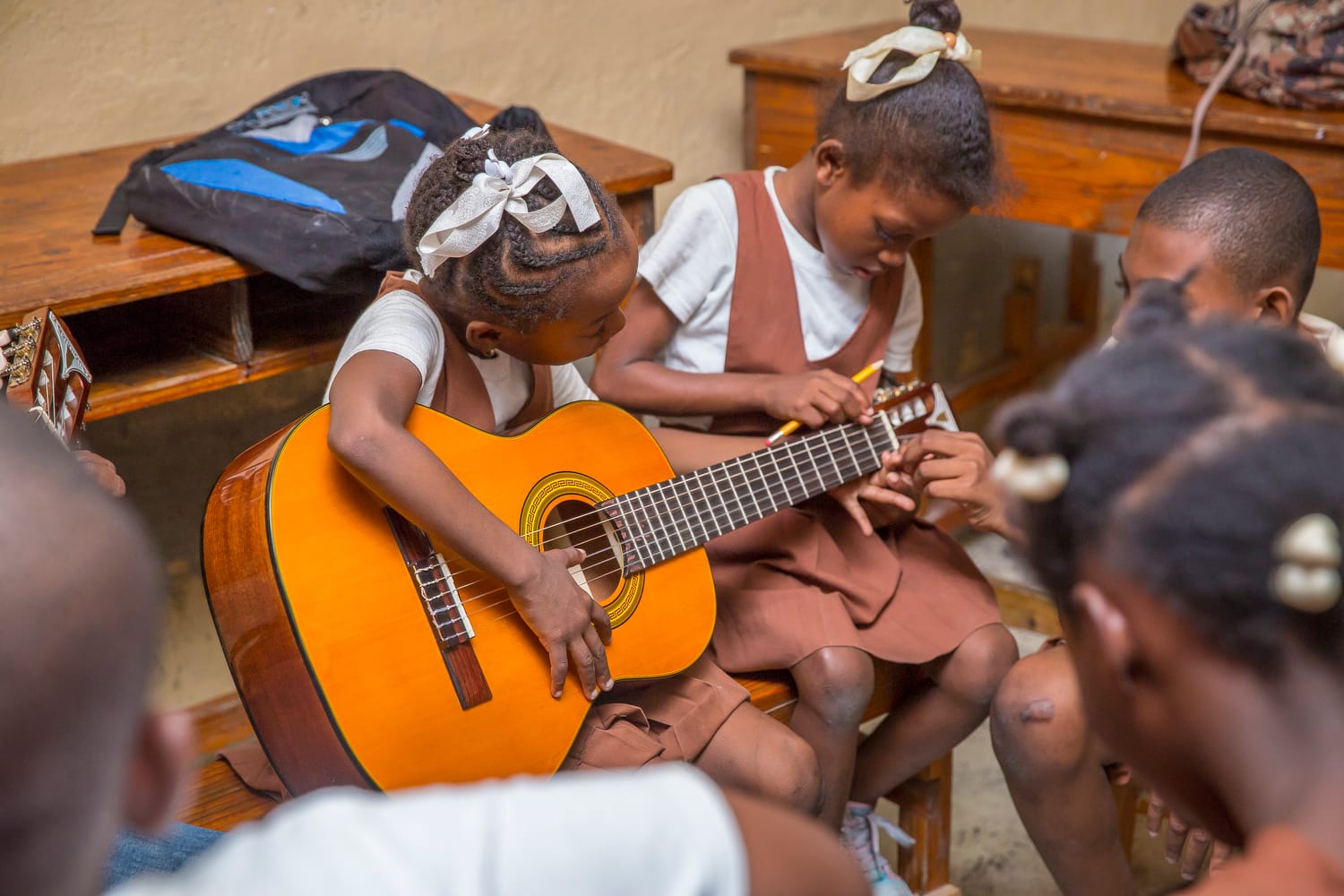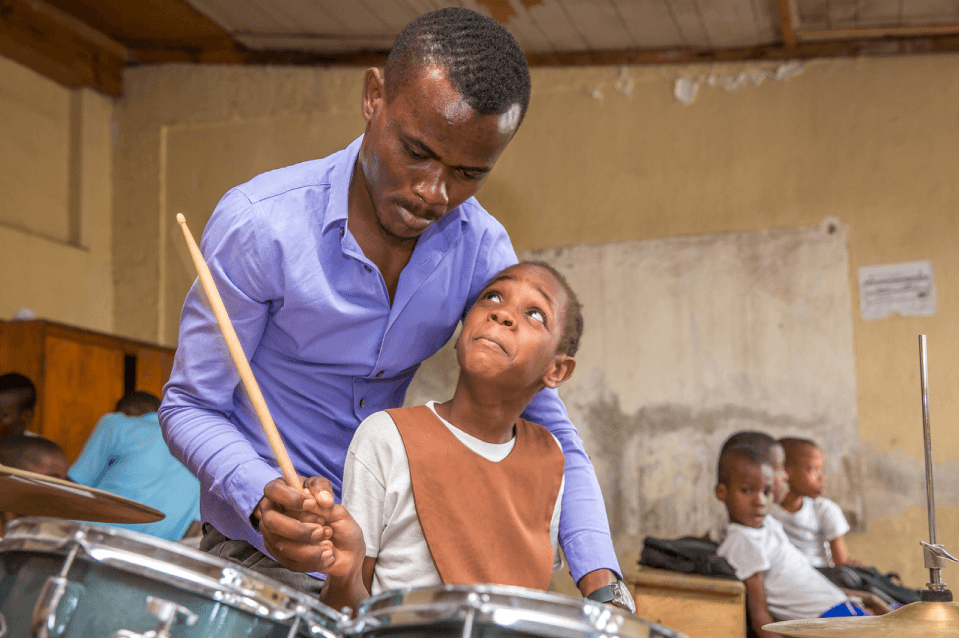 Composing Futures
In partnership with J/P Haitian Relief Organization (J/P HRO) and Little Kids Rock, MHI brings music education to schools and communities in Haiti. Through music education, we not only foster musical interest and ability, but achievement, resilience and creativity. We believe that in a country where 25% of people live in extreme poverty, these strengths and skills are critical to navigating the challenges of life. We help children discover their power, reinforcing school and community engagement, fueling creativity and inciting hope for the future. This transformation in perspective anchors children as they mature, strengthening their resilience in the face of adversity and sustaining their drive to build a better future.
Learn more
Composing Futures
"If all children were given the possibility to play an instrument, I think this is something that could take them far for as long as they live."
Research from the University of Southern California's Brain and Creativity Institute shows music training supports a "developmental crescendo" in children that contributes to social, emotional and cognitive growth. Music instruction accelerates brain maturity with positive implications for "sound processing, language development, speech perception and reading skills." It also engages areas of the brain responsible for decision making, focus and impulse control. We capitalize on this brain boost and music's cultural importance in Haiti to build skills and attitudes that nurture success in music, the classroom and beyond.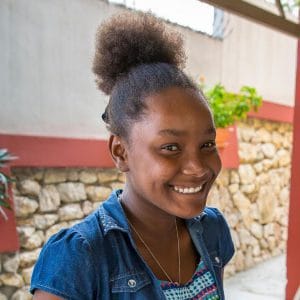 Meet Janessa
"When I got into the music class, my mother [was afraid] I wouldn't have time to study. But I told her that I would have a schedule so I could have a time for each thing. Now I apply myself better. I take more time to study and to do my homework and my mother is happier. I used to neglect that a lot in the past. I entered music class and I changed."
Empowering Children with Disabilities
MHI empowers children living with disabilities by connecting them to music, self-expression and their peers. In 2017, one in ten MHI students had a disability. These children are among Haiti's most vulnerable. They are often stigmatized in their communities and overlooked by mainstream programs designed to promote child development. Through our commitment to enhancing J/P HRO's inclusive educational model at MHI partner school, Ecole de l'Espoir, we introduced an inclusive approach to teaching music and are bringing tablet-based technology into the classroom to increase accessibility for all children.
Learn more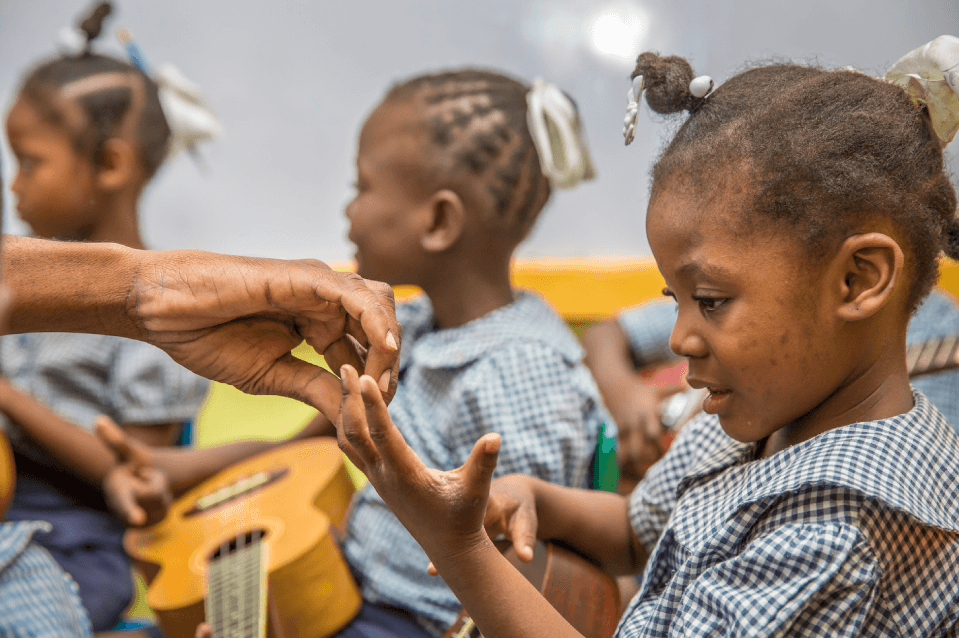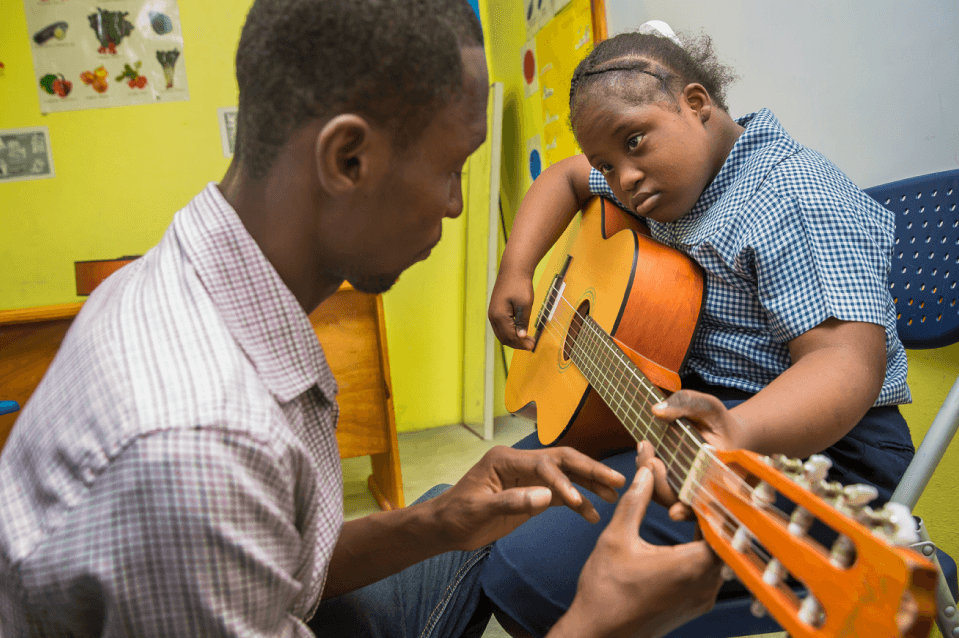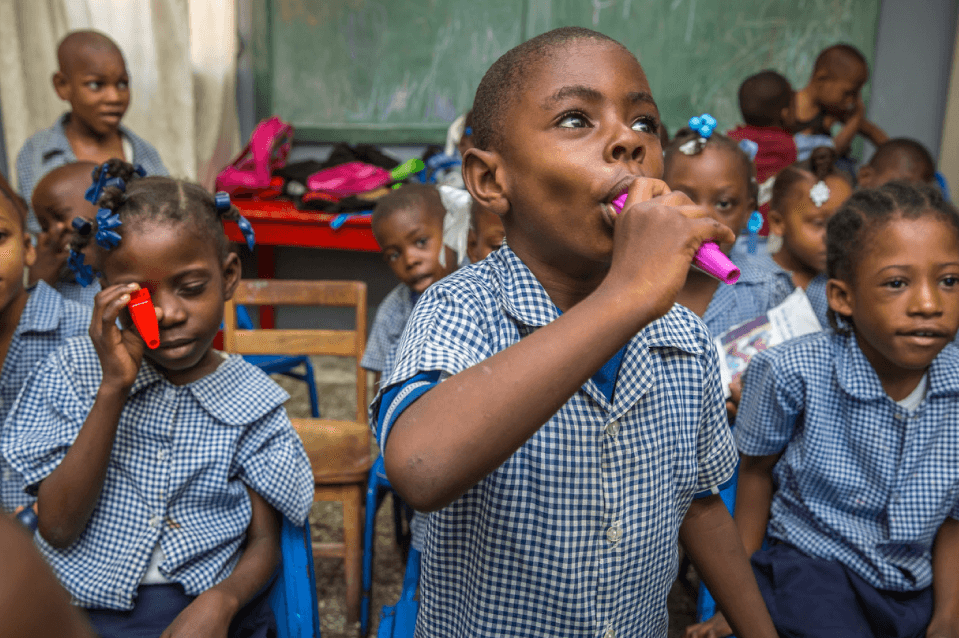 Empowering Children with Disabilities
Through MHI's music education program, children with and without disabilities learn and play together, exciting and inspiring one another and enriching attitudes of acceptance, generosity and human potential. MHI also offers a dedicated class for young children with disabilities to promote early intervention supporting the development of communication skills and self-expression. These classes not only help children thrive, but support our teachers' growth, as well.
360-degree learning occurs as students with disabilities broaden peers' and teachers' perspectives. James, a veteran music teacher and staff member, described how he gained self-awareness and a deeper understanding of what works in the classroom and in life.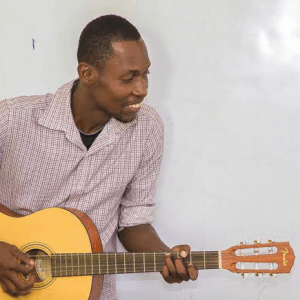 Gaining Self-Awareness
"I remember I was teaching a class and all the children were distracted. Each one was doing something different. I had to use a lot of patience and tolerance to gather everyone's attention and get them to focus so I could get the music lesson across. I was amazed by what I accomplished that day. Patience became something important to me as I realized that I could work with children of any kind. If everyone truly used patience, people could accomplish great things, things that they would have never have hoped to achieve."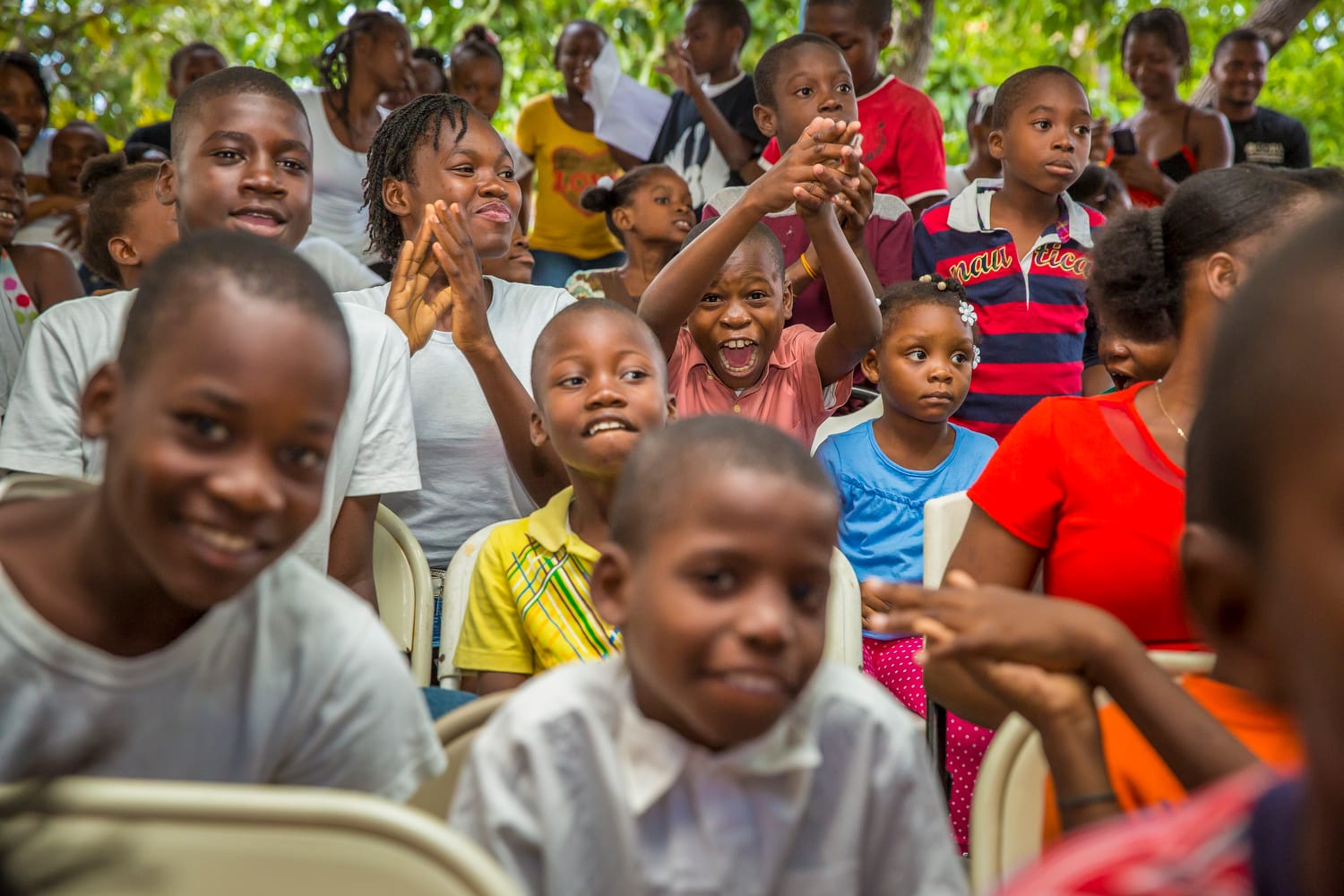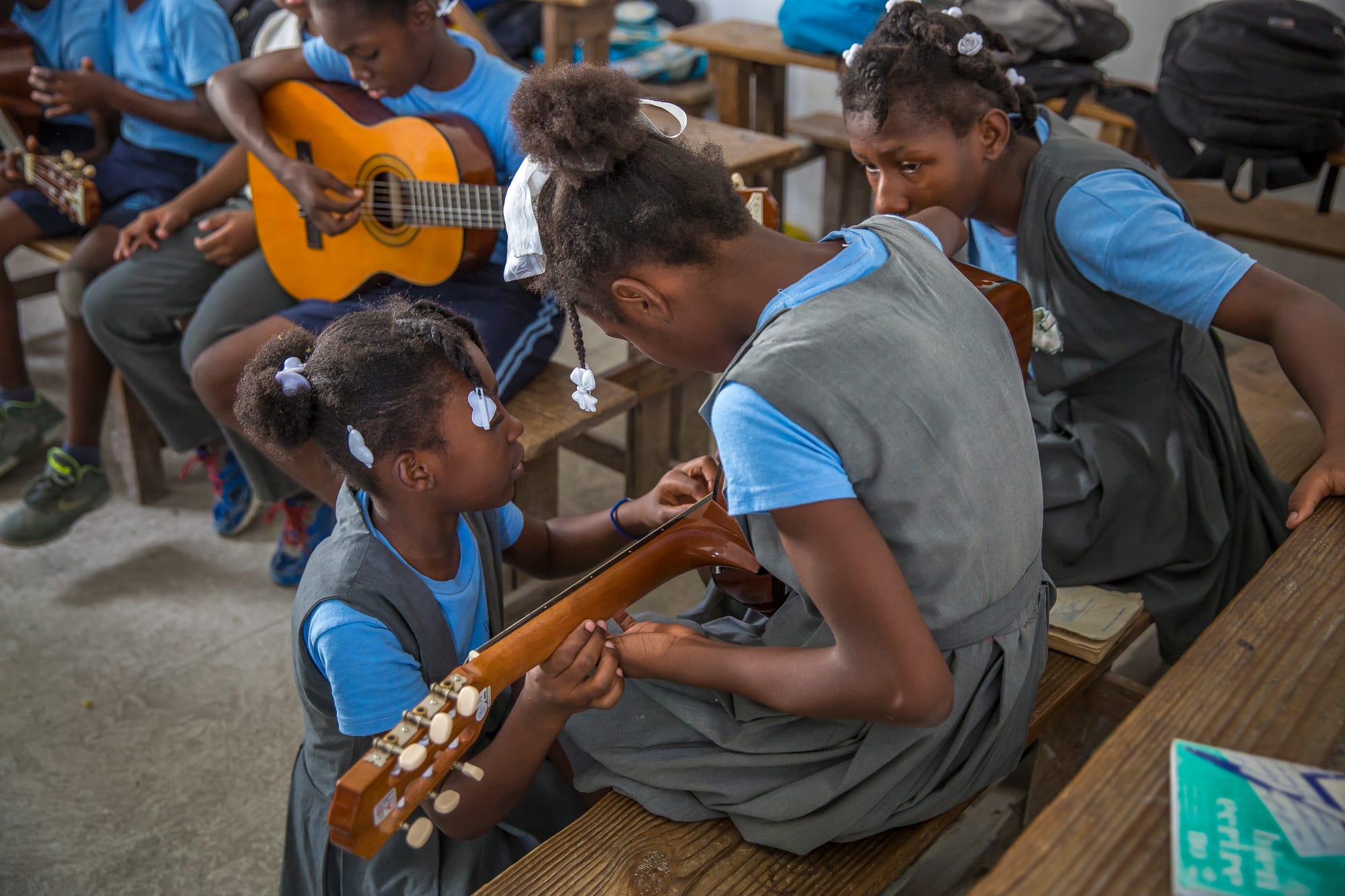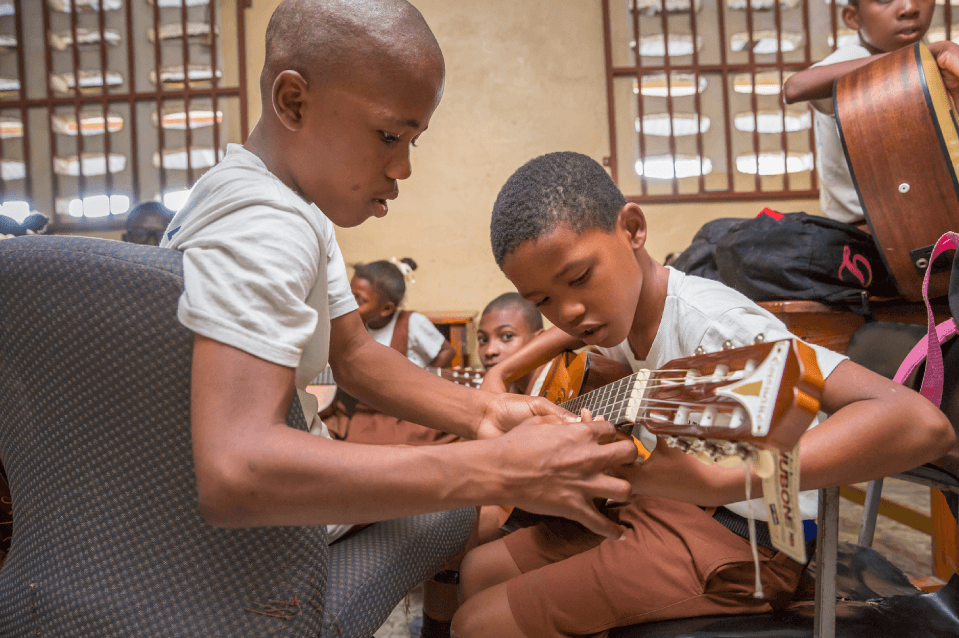 Building Leaders and Community
MHI offers a unique approach to youth development and community building through music education in Haiti. We provide mentorship and facilitation opportunities to train young leaders and give students a voice through public concerts that unite people and strengthen community bonds. MHI's Summer Music Camp is an important part of our strategy.
Learn more
Building Leaders and Community
Launched in 2017, MHI's Summer Music Camp builds upon opportunities for peer mentorship at school by training youth to lead music lessons, which reinforces knowledge, teaches patience and improves planning and communication skills. The camp also gives children with no prior music training the chance to engage in creative, gender-balanced summer programming that increases access to music in a safe community space. Overall, this program enhances MHI's model by increasing our capacity to educate children, deepening our impact on the individual and turning music students into role models who help create supportive communities.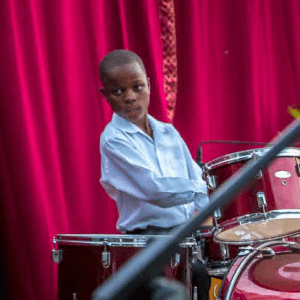 Cultivating Peer Leaders
"Zazou is a teacher. … He still doesn't have a drum set, but Zazou has a few pots and every now and then he drums on them. He shows other kids how to play the drums. Even I look at him play and learn how to do some things. It's thanks to him because he has become a teacher in his neighborhood."
Help Us Empower The Children of Haiti
Give Hope. Give Music.